In a few short weeks, the kids will be out of school for the summer break. Studies show that kids have to be retaught a month's worth of previously learned information before they can start with newly introduced study materials. Reading is a vital component to keeping kids fresh during the summer, helping them with better grades in the fall. Getting your kids motivated to read 20 to 30 minutes a day up to 5 days a week can be challenging, however we all spend at least this amount of time travelling to the grocery store or to your next field trip. It's very easy to have your kids earn TV or video game time for the exchange of reading minutes. Your kids will really enjoy this Newberry Award winner, Mrs. Frisby and the Rats of NIMH. Learn more about this amazing book.
This story starts with Mrs. Frisby realizing spring is upon her and her family and her home near the farmers 'barn would soon be in jeopardy of destruction due to the spring plowing of the field. She unfortunately cannot move the family to their summer home because Timothy, her son, is seriously ill with an extremely high fever and suffering from pneumonia. Moving Timothy while being so sick would put him in grave danger. Mrs. Frisby sets out to get some medicine for Timothy and discovers even with the medicine, Timothy should rest for 3 weeks. Mrs. Frisby does not have time and must risk moving Timothy. On the way home with the medicine, she saves a crow named Jeremy from the farmers pet cat whose name is Dragon.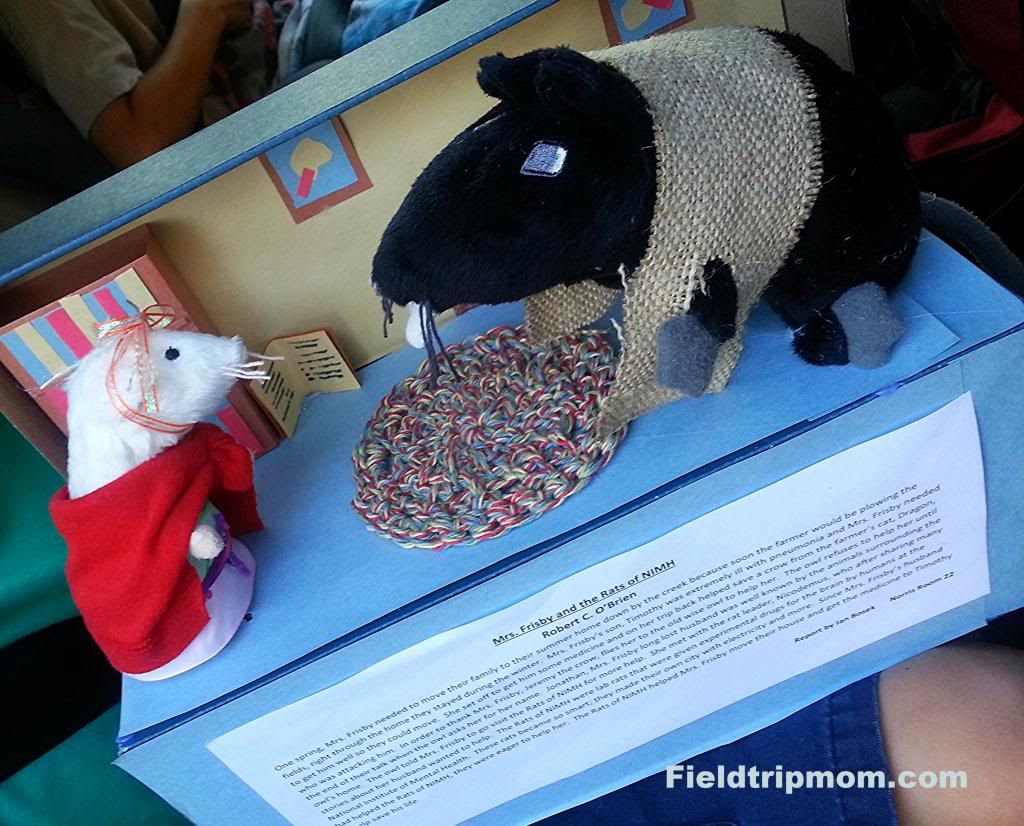 Mrs. Frisby explains her situation to Jeremy (the crow) who is grateful for her help with Dragon that he flies her to see the Wise Owl to see if he could help her. Upon visiting with the owl, he exclaims there was nothing he could do to help her. The owl says, "I forgot to ask your name?" which Mrs. Frisby shares with him resulting in his response, "Any relation to Johnathan Frisby?" Johnathan was Mrs. Frisby's late husband who passed attempting to save a group of rats from NIMH, the National Institute of Mental Health. The owl quickly changes his mind upon hearing her name explaining that her husband Johnathan was well known in those parts and agrees to have her meet with Nicadamius, the leader of the rats of Nimh. The story goes that the humans at NIMH were using the rats for experimental mental drug testing. As a result, these experimental drugs made all of the rats extremely intelligent and with the help of Johnathan Frisby, escaped from NIMH and created their own habituate that made the rats self sufficient and non dependent on the humans. Johnathan however died while helping save some of the rats. Since the rats of NIMH were so grateful, Nicadamius and the other rats decide to help Mrs. Frisby with her move.
This Newberry Award winning book is an amazing book sharing with its readers how kindness and fair treatment of others can provide a world of benefit for oneself during a time of need. The book depicts the importance of friendship, kindness and teamwork to accomplish difficult challenges in life. An excellent story and easy read for second grade children with above average reading levels through adults. This book is rated at a Lexile Level 790 and Grade Level 5.8. I enjoyed hearing about the story told to me by my son that I picked up the book myself for a quick read. I hope your kids enjoy this book as much as we did.
Disclaimer: All thoughts and opinions are all my own. Find us on Facebook and get more fun ideas.