June is the month that we spoil my husband as part of a month long Father's Day celebration. The celebration began with a day spa at home with fresh mint cucumber infused water. Then, we play dad's favorite music, eat at his favorite restaurant, nature to nurture dad's soul and finally give him a fun car experience with a rental.
We bought a face mask, new nail clippers, new scrubbing sponge, foot creme, cucumber soap and cucumber lotion. All the ingredients for a pedicure and manicure you can imagine, in cucumber scent, were used to make spa day special for "Dad". My kids helped pamper their dad by giving him a soft head massage and gently rubbing his arms. It was totally cute and adorable to see the kids get involved with pampering their father.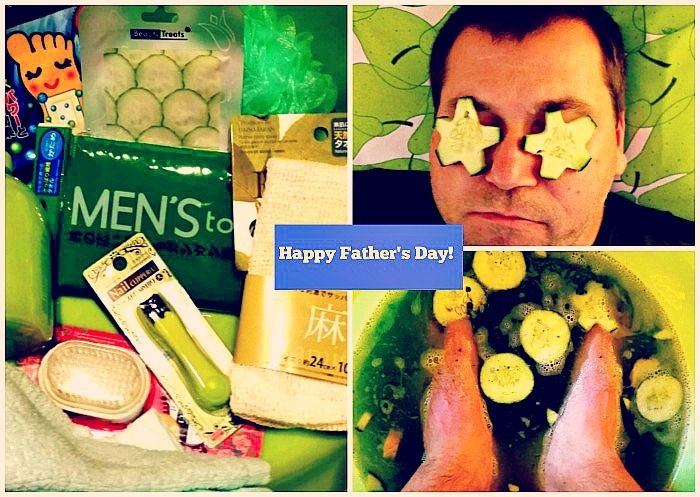 Play his favorite music week.
Music is a big part of our lives. We listen to the radio in the morning. We play CD's at home and on long road trips. For a week in the month of June, the entire family listens only to Dad's favorite music. We purchase and rent CD's of dad's favorite bands and we listen to them together. Along the way we find our own favorites from his sounds. This helps us to bond together as a family because we have something in common. It's really adorable to hear small children try to understand the sounds of the past. The kids enjoyed Bon Jovi and other bands I can't even pronounce. Dad really loved the Rock and Roll from the 80's (AC/DC, Poison, Bon Jovi, Def Leppard, Kix and more.)
Eat at his favorite restaurant on a regular day.
My husband loves sushi and steak. His favorite place offers happy hour deals during the week when it's less crowded. To help make happy memories, we almost never visit a restaurant during heavy times. On a Thursday night, two weeks before Father's day, we surprised dad and took him to his favorite spot to eat Sushi. The experience was relaxing because we did not have a crowded restaurant or long lines to wait through. We surprised him with presents after his favorite meal. It made for a very special day for dad aka husband.
Nature to nurture the dad's soul.
We are very lucky and live 20 minutes away from Laguna Beach, Newport Beach and Corona Del Mar as well as gorgeous parks and nature centers. For the month of June, we make every effort to visit the beach or a park at least once a week. Time is set aside for our family to eat a picnic meal at some beautiful location like Laguna Beach, OC Great Park or Northwood Park aka Castle Park. During this time of nature to nurture, we engage in family conversation as well as play time. The main focus is to get Dad back to playing and feeling active and re-energized. Sometimes, it can be as simple as playing football at the park or walking around the park.
This year, we had a unique opportunity and we rented a New Hyundai Santa Fe Sport vehicle from Budget rent a car for a week. Dad got to have a new experience with a 2015 Santa Fe, Hyundai that offered hands-free Bluetooth connections and AM/FM/Sirius XM / CD/MP3 audio system with 6 speakers (features our current car doesn't offer). The vehicle handled smooth and light. My husband aka Dad, drove the new car to San Diego and we all went on a small road trip in style. It was nice to experience something new together.
Suggestion: For smaller budgets I recommend small acts of kindness. In the past we have had the car washed and the oil changed as well as making sure the gas tank was filled.
The month is almost gone and Father's day has passed. I want to encourage you to continue doing small acts of love and kindness for your family and others. It is may hope that every home is filled with respect, love and understanding. Happy family field tripping!
Disclaimer: Not a sponsored post. All thoughts and ideas are all my own.