Recently, the Field Trip Mom Family was invited to join Knott's Berry Farm to experience their 3 star hotel. We spent one night at the hotel and one amazing day at Soak City Waterpark. Making this our first staycation of the year and spending some us time. The hotel offers great amenities and special meet and greet to guests. Continue reading to find out more...
DISCLAIMER: This was not a paid sponsored event however we received one nights accommodations in order to provide a review of our experience. All opinions are solely that of Field Trip Mom.com and our personal experience.
Knott's
Berry Farm Hotel is a great 3 star hotel centrally located in Southern California to many attractions great for a
Staycation
. The hotel is next door to
Knott's
the amusement park and Soak City
Waterpark
. It's only a few minutes from Orange County beaches and South Coast Plaza Shopping. Our stay was made special by Snoopy tucking our kids into bed. The next morning, Snoopy and his friends met us in the lobby to say Good Morning. If you stay on the first floor Snoopy will personally wish you good-night.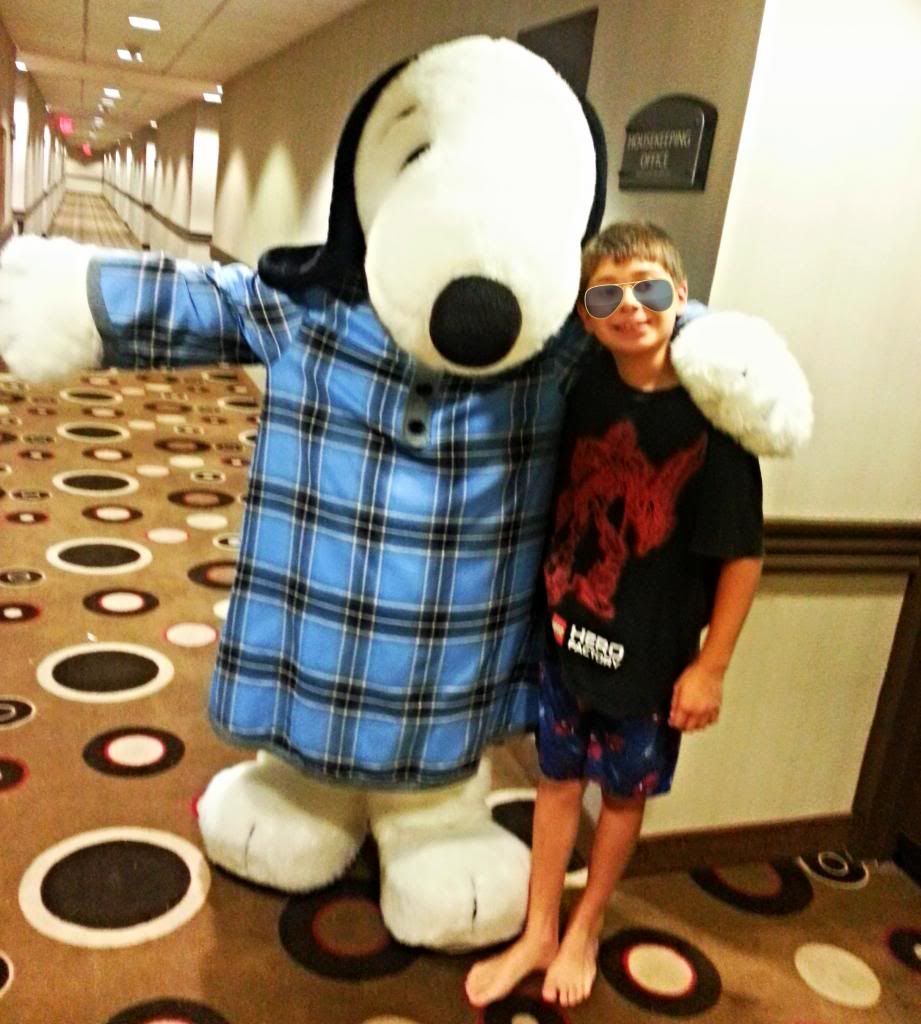 The price of the room includes a gym, sauna, large heated pool and spa with a resort style deck full of great lounge chairs. The pool area has an amazing kid's water play feature with water falls, water cannons and spray toys. Enjoy wireless internet, ironing boards, coffee stations, Disneyland Shuttle, Full room service and gift shop. Not to mention, there are many amazing places to eat including Mrs. Knott's Chicken Restaurant, TGI Fridays, Amber Waves dining, Full Bar and Grand Lobby to socialize. The hotel offers a wedding chapel and full service wedding packages at reasonable prices. Enjoy a fantastic event with several ballrooms for every occasion.
The day we attended it was hot and there were kids playing in the pool as well as the water feature play area (picture above). On our stay the play area was filled with lots of families enjoying the moon and happy kids playing in the water. I recommend if you have older family members and young kids to entertain, then this is the perfect spot. Have the kids play all day at Knott's, Soak City or the pool area while your senior parents enjoy soaking in the sun.