Knott' Berry Farm is celebrating 30 years of fun.

To celebrate, they have added 3 NEW rides in Camp Snoopy as well as added several improvements to the park.

Along with the
Camp Snoopy
improvements, the park is introducing the re-opening of The Calico Mine Ride. The park looks refreshed and exciting with the educational spark still burning brightly. Keep reading to find pictures and information on the NEW Camp Snoopy attractions. Charlie Brown's Kite Flyer has a surprise, Pig Pen's Mud Buggies inspires and Linus Launcher re-creates flying on a blanket.
A NEW ride at Camp Snoopy is the Charlie Brown Kite Flyer, which is a swing that goes up 18 feet. As the guests ride in the air the kite, the eating tree reveals Charlie Brown upside down and all tied up in kite string. If you are a fan of Charlie Brown, you know that he believed that it was impossible to tell a kite-eating tree from non-kite eating trees by sight. It was only until your kite would catch in its branches that you truly knew. He believed that such a tree would have a large smile on its face as it ate the kite. The ride is inspired by comic strip PEANUTS. Kids will love the swing and feeling the air brush past their face as they fly in their own kite. The ride has a height requirement of 42 inches to ride alone or you can ride with a responsible companion.
Another fun and NEW ride is Pig Pen's Mud Buggies, an all-terrain vehicle for children to ride while Pig Pen looks on from the center of the ride. Pig Pen is a Peanuts character who does not care what others think of him. He is happy being himself with his dust cloud and dirt laidened body. Charlie Brown loves that about him and sees his inner beauty. This ride is about being happy and having unconditional love. Kids who ride will spin, bounce and bump making them want to ride all day long. You must be at least 36 inches to ride alone or have a responsible companion with you. The ride is replaces the Log Peeler and is located in same location. Among the NEW rides, there are a few more improvements that the park has added to make it sparkle. I will be sharing those improvements in a follow up post this coming July.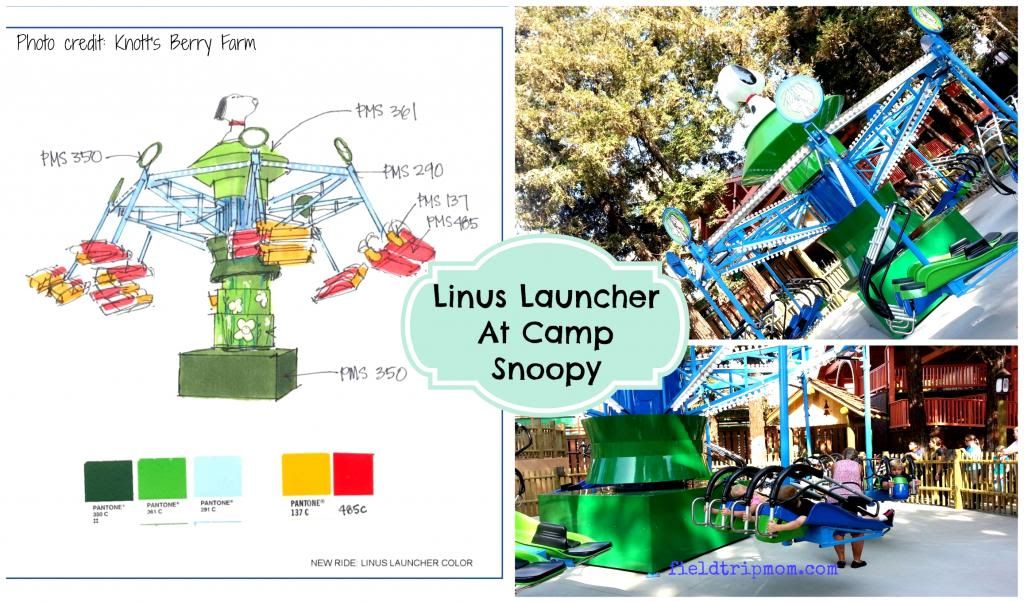 Want to fly and go on a wild ride just like Snoopy? Then try the Linus Launcher ride. It will make you feel like you are a Super Hero flying around Camp Snoopy. First you lay down on your belly and hang on as the ride gradually begins to take off. A classic Snoopy Peanut's moment in which he takes a ride on Linus's Blanket and goes on a wild ride. I heard kids laughing and giggling as they took off.
The Calico Mine Ride is a favorite of my because of the hands-on educational value it offers to everyone. One example is that California kids in the fourth grade will study the importance of the Gold Rush. By the end of the year, those students will need to know how the Gold Rush changed California and what it meant to our economy. A great way to learn about the past is through the hands on experiences that
Knott's Berry Farm
offers through the Ghost Town, panning for Gold, the Calico Mine Ride and much more. The ride depicts the conditions that miners back in 1848 might have worked under. A great quote comes to mind, "Tell me and I forget, teach me and I may remember, involve me and I learn." Benjamin Franklin. Knott's Berry Farm offers many hands-on opportunities for young minds to engage in learning without feeling bored. The list of opportunities is very large so I will only offer a few for now.
Butterfield Stage Coach – Kids learn first-hand about transportation in the 1800's.

Mystery Lodge – Native American lessons

Western Trail Museum – Things farmers, miners and everyday people used in the past.

The Old School House – What an old school house used to look like in the 1800's.

Pony Express - A fun ride that brings up the subject about how mail was transported in the Olden Days.
I highly recommend that if your child will be learning about The Wild West, the Gold Rush, Olden Days and California history in general you should take them to Knott's to experience it in a fun and memorable way. Thank you for stopping by and remember to visit our
Facebookpage for more ideas and fun stories.