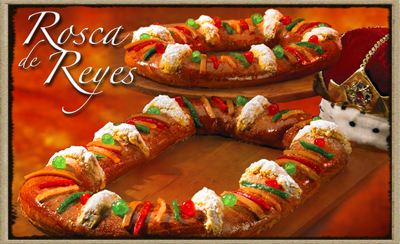 Artimex Bakery



Have you seen the the Rosca Pan at the local Mexican Market? Today is January 6th El Dia De Los Tres Reyes or Three Kings Day. It is an important holiday tradition for Mexican's here in California. It is a day that parents give gifts to their children to represent the gifts that Baby Jesus received from the Three King's. So you could say that Christmas continues in the Mexican culture. The bread has a special surprise. Inside there is a small plastic figurine representing baby Jesus. If you get a slice and find the baby Jesus, then you are the person who will host Candelaria or Candlesmas Day party, which happens on February 2nd. February 2nd is the day for a large dinner of homemade tamales and hot chocolate.

It is all so much fun to eat the Rosca and celebrate Three King's Day. This year I did not get the baby Jesus. So I am not throwing a party. Let's see what happens next year?




(February 2nd is the 40th day after Christmas and it is believed that Jesus would have been

taken to temple. For Catholics it is the "Feast of the Purification of the blessed Virgin also known as the Presentation of the Lord. In the United States it is Groundhog Day. It is the day that marks Winter Solstice and Spring Equinox.)




Where can you find the Rosca Bread?

Most Mexican markets have bakeries that bake fresh breads everyday. Superior, Northgate, El Tapatillo and Cardenas are a few that carry fresh baked goods.




Visiting a local Mexican Market is a great way to explore foods from Latin America without leaving town. Best time to go is early in the morning when everything is fresh and not crowded. Have fun with your field trips.
Read more...
http://gomexico.about.com/od/festivalsholidays/p/dia_candelaria.htm
http://www.mexonline.com/history-lostresreyes.htm
Rosca De Reyes

-

Three Kings Bread
Food Network Receipe:
Food Network
Ingredients
1 (1/4-ounce) packet active dry yeast
1/4 cup warm water
1/4 cup dried figs, cut into strips, plus more for garnish
1/4 cup candied orange peel, cut into strips, plus more for garnish
1/4 cup chopped candied cherries, plus more whole for garnish
2 tablespoons light rum
1/4 cup milk
1/4 cup sugar
1/4 cup (1/2 stick) unsalted butter
1 teaspoon pure vanilla extract
1/4 teaspoon ground cinnamon
1 teaspoon salt
3 1/2 to 4 cups all-purpose flour
3 large eggs, divided
Water
Directions
In a small bowl, combine the yeast and warm water; stir to
blend
. Let stand until the yeast comes alive and starts to
foam
, about 5 to 10 minutes.
Put all of the candied fruit in small bowl and
drizzle
the rum on top. Let stand for 15 minutes to 1 hour to infuse the flavor.
In a small pot, warm the
milk
over medium heat. Add the
sugar
, butter, vanilla, cinnamon, and salt.
In a large bowl, mix 3 1/2 cups flour, 2 eggs, yeast mixture, milk mixture, and the rum soaked candied fruits, mixing very well until the dough gathers into a ball. If the
dough
is too wet, Add additional flour, a little at a time, if needed to form a soft dough. Turn the dough out onto a lightly floured surface and
knead
until it's smooth and elastic, about 5 minutes. Put the ball of dough back into the bowl and cover with
plastic wrap
or a kitchen towel and set aside in a warm spot to rise for 1 hour.
Remove the dough from the bowl and knead on a lightly floured surface. Using your palms, roll the dough into a long rope. Shape the coil into a ring, sealing the ends together. Insert a little doll or coin into the bread from the bottom, if desired. Line a baking pan with aluminum foil and coat with nonstick
cooking spray
. Carefully transfer the dough ring to the prepared baking pan.
Preheat the oven to 350 degrees F.
Beat the remaining egg in a small bowl with 1 tablespoon of water to make an
egg wash
, and brush the top of the bread. Decoratively garnish the top of the bread with more candied fruit and bake for 35 to 40 minutes until the
cake
is golden.
Cool on a wire rack before slicing.
Cook's Note: Let your guests know there is a little doll or coin inserted inside.